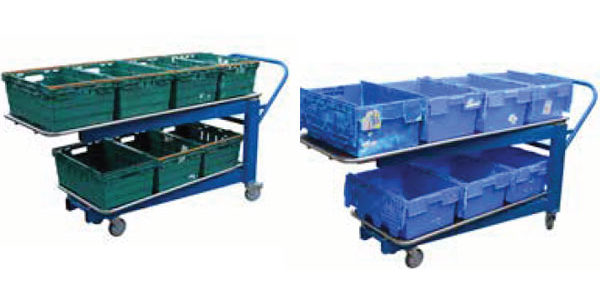 Export Shipping to Europe
Enabling a major new European contract
In this Case Study we talked to our customer about how our European express service and European freight management was the catalyst to enabling them win a major new European contract.

PRODUCT CARRIED: Shopping Trolleys
IMPORT TO: UK
EXPORTING FROM: Germany, Holland and Denmark
TRANSPORT USED: Curtain Sided Trailers
TYPE OF SERVICE: Express and Full load Trailers
ALL CLIENT WORK IS IMPORTANT, BUT WHAT MADE THIS OF PARAMOUNT IMPORTANCE TO YOU?
This was a huge project for us and we had to get it right.
We have developed a strong business in the manufacture and supply of metal trolleys within the UK market, so our business development plan meant we needed to grow internationally.
As you know in business, not everything drops into place exactly when you want it to, but we suddenly had an opportunity to present to a prospective international retailer, based in Europe, within 48 hours!
SO WHAT DID YOU NEED TO DO?
We had to get our product into a showcase sales meeting in Berlin, Germany within 48 hours.
It's easy to get our sales rep there in that time, but of course they needed the product samples at the same time. With a time critical meeting scheduled with large corporation buyers, we had to find a European express courier that we could trust, deliver on time and at a reasonable price.
HOW DID YOU FIND 1st EUROPEAN?
We spoke to a few hauliers that all promised the world.Some were really cheap (which made us cautious, given the importance) and others that we found to extortionate, probably taking advantage of the fact we needed a European Express service.
First European gave us the best all round value and price. We did our homework on you, saw the good reviews and information on your website and your telephone advisor Dave, was knowledgeable, understood our predicament and told us the key elements we had to consider.
That gave me confidence to talk about future shipments and how the pricing and logistics would affect our future business in Europe.
Again Daves support helped us to cost and plan larger shipments, understanding the logistics of shipping to Europe, the paperwork involved, transporting through multiple countries and planning around transportation bans.
Not only would we get our sample shipment to Germany within 48 hours, we could head into the meeting with all logistical angles covered too.
Positive all round.
The samples were collected and delivered on time as planned. First European kept us updated which meant we had a panic free 48 hours.
Following on from that, we won the contract and we are now shipping container loads to Germany, Holland and Denmark on a regular basis.
SO HOW DOES FIRST EUROPEAN MANAGE YOUR EUROPEAN FREIGHT NOW?
We are scheduling the transport to Europe based on JIT (just in time).
Orders received from the customer are scheduled into production and First European provide trailers for us to load as the product rolls off the production line. This reduces warehousing costs.
As the pallets are non-stackable, First European have worked with us to maximise the amount of product we can fit (of varying bulk sizes) to a pallet and subsequently onto a curtain sided trailers.
We then know that from collection to delivery, they will be at the customers door within 3 days and all the paperwork will be taken care of.
The drivers sign on collection and delivery and First European provide all copies to us on competition.
WHAT IS YOUR OVERALL SUMMARY OF FIRST EUROPEAN?
Delighted.
We know we can make and sell great products to any business internationally, but every business needs reliable support from its suppliers to complete a job and First European do their bit every time.
We would not hesitate to recommend First European, based on value for money, communication, advise from their staff and delivering the goods on time.